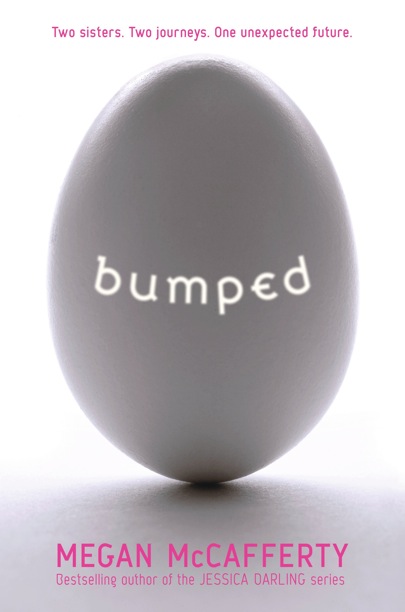 Release Date:
April 26,2011
Publisher:
Balzer + Bray
Age Group:
Young Adult
Pages:
336
Overall:
4/5 Stars
When a virus makes everyone over the age of eighteen infertile, would-be parents pay teen girls to conceive and give birth to their children, making teens the most prized members of society. Girls sport fake baby bumps and the school cafeteria stocks folic-acid-infused food.

Sixteen-year-old identical twins Melody and Harmony were separated at birth and have never met until the day Harmony shows up on Melody's doorstep. Up to now, the twins have followed completely opposite paths. Melody has scored an enviable conception contract with a couple called the Jaydens. While they are searching for the perfect partner for Melody to bump with, she is fighting her attraction to her best friend, Zen, who is way too short for the job.

Harmony has spent her whole life in Goodside, a religious community, preparing to be a wife and mother. She believes her calling is to convince Melody that pregging for profit is a sin. But Harmony has secrets of her own that she is running from.

When Melody is finally matched with the world-famous, genetically flawless Jondoe, both girls' lives are changed forever. A case of mistaken identity takes them on a journey neither could have ever imagined, one that makes Melody and Harmony realize they have so much more than just DNA in common. (Amazon.com)
Megan McCafferty's Bumped didn't start out exactly how I thought it would. When I heard about Bumped I had a vision in my head of a Lauren Oliver Delirium-esque novel; a book that would focus on the struggles of dealing with a dystopian society. Boy was I wrong about this book. Its not to say that this book was a disappointment, but it was considerably different than I imagined. The novel is centered around two sisters separated at birth, Harmony and Melody. I thought the book would be about their resistance to society, but it ended up centering around their resistance to each other. McCafferty's dual-narrator style made it easy to understand what the twins were going through. Although the twins weren't very eloquent (they are teenagers after all), their stories clearly drew a picture of their struggles with moral values, family, and independence. As the twins become entangled in each others' lives, McCafferty crafts an ever-changing plot that will have you on the edge of your seat. The characters were developed wonderfully, and I enjoyed how the smaller characters like the hunky Jondoe and best friend Zen created intricate subplots. This was my first time reading a Megan McCafferty novel, and I look forward to reading more of her work. I strongly recommend this book for anyone who likes romance, controversy, and friendship mixed into a dystopian novel.

love always,
Amanda
Writing: 4/5 Stars

Characters:4/5 Stars

Plot/Setting: 5/5 Stars

Ending: 5/5 Stars

Cover: 5/5 Stars