Release Date:
Sept. 4th 2012
Publisher:
St. Martin's Griffin
Age Group:
Middle Grade/Young Adult
Pages:
288
Flirt Factor:
Chaste
Overall:
3/5 stars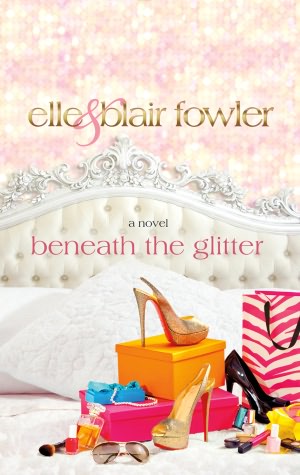 From internet stars Elle and Blair Fowler comes a scintillating new novel that takes readers Beneath the Glitter of the glitzy L.A. social scene.

Welcome to a place where dreams are made. And where nothing—and no one—is ever what it seems.

After their make-up and fashion videos went viral on YouTube, sisters Sophia and Ava London are thrust into the exclusive life of the Los Angeles elite. Here fabulous parties, air kisses, paparazzi and hot guys all come with the scene. Sophia finds herself torn between a gorgeous bartender and a millionaire playboy, and Ava starts dating an A-list actor. But as they're about to discover, the life they've always dreamed of comes with a cost.

Beneath the glitter of the Hollywood social scene lies a world of ruthless ambition, vicious gossip…and betrayal. Someone close to them, someone they trust, is working in the shadows to bring the London sisters falling down. And once the betrayal is complete, Sophia and Ava find themselves knee-deep in a scandal that could take away everything they care about, including the one thing that matters most—each other. (Blurb taken from Goodreads)
I'm going to be blunt with you and just say I did not have high hopes for this book. While I have a secret obsession with Youtube beauty gurus, I didn't necessarily think a novel written by two of them would have a whole lot of literary merit. I mean, their gig is beauty stuff, right? However, I will say that I was pleasantly surprised by the Fowler sisters' first novel.
It took me a couple of chapters to warm up to
Beneath the Glitter
. At first, Sophia and Ava London - the two main characters - seemed a little fake. They're easy going, fun girls who, for the most part, are enjoyable characters. However, during the first few chapters, it felt like the Fowler sisters were trying a bit too hard to give the Londons more serious sides. The first chapter opens up with Sophia being overly broody about a breakup and it just seems kind of forced. As the book progressed though, you get to see the more fun and bubbly side of the sisters. It was really fun to follow the London sisters around as they hung out with their quirky L.A. friends and experienced the outlandish things you could only see in Hollywood. The Fowler sisters really included a good mix of characters, from the eccentric best friend Lily to the adorable animal shelter volunteer, Dalton. These fun characters combined with the always interesting plot line - which included mingling with movie stars, rescuing animals, 46 courses of champagne tasting, and even sabotage - made for a quick, fun read that I finished in under a day.
As far as the writing was concerned, I had a love hate relationship with this book. The Fowler sisters wrote this book with the help of a writing partner and there were times when you definitely noticed. As a whole, the book seemed to be written very similarly to
The Clique Series
by Lisi Harrison. It was very fun and fluffy with a decent amount of drama mixed in. The end of the chapters even featured a LonDOs and LonDON'Ts list that reminded me a lot of Massie's State of the Union lists that appear in Harrison's series. However, while I did enjoy this style of writing, like I said before, you could definitely tell that the Fowlers used a writing partner. Every once in a while you would come across a part of the novel that was over-embellished and used too many similes and too much imagery. You could tell that this was where the writing partner came in and kind of 'made stuff pretty.' The writing partner's style really clashed with the rest of the book and was easily distracting. I think there was one scene in the book where it literally said "the room was pregnant with emotion", which, after reading only a couple of pages of the book, you could tell didn't really fit with the overall style and tone of the book. What bugged me the most about this over-embellishing was the fact that
there were parts of the book that weren't embellished that really needed to be!
I mean, you get a paragraph long description of a look in a character's eyes when it's not even important, yet when the London sisters have their first kisses in the book (or any of the other kisses for that matter), you basically get one line that just says "They kissed."! Talk about frustrating. However, clashing writing styles aside, the writing was still decent enough that I finished the book relatively quickly and actually did enjoy it.
Overall, this was a quick, easy and fun read. The London sisters made interesting main characters, the plot was really entertaining, and I absolutely loved the cast of characters. If you want something deep and thought provoking, this isn't the book for you. However, if you would like a light read and enjoy books like
The Clique Series
by Lisi Harrison,
Beneath the Glitter
by Elle and Blair Fowler is perfect for you. Also, bonus! The book has a good sort-of cliffhanger ending that sets up for the next book in the series! Which, just FYI, I am definitely picking up when it comes out in Summer 2013.
Writing:
3.5/5 stars
Characters:
4/5 stars
Plot/Setting:
3.5/5 stars
Ending:
5/5 Stars
Cover:
3/5 stars
Love always,
Amanda